The school of Fame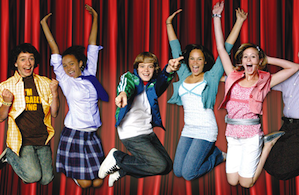 It's that time of year when the performing arts schools are having their auditions. If your child has decided that they want to audition then please take a moment and breathe. There will be hundreds of kids auditioning for a few spots so here are some tips to get you through.
First, try not to stress out for your child. Remind them that if this is what they really want to do, it will just be one in a million auditions that they will go on. The more you relax and enjoy the process with them the more confident they will be. Find ways to make it a fun process.
Second, most schools will ask for a song and a monologue. Don't choose for them what to do. You and your child should choose together. Kids will be much more excited doing a piece that they love. I would work on a couple of pieces that you both like and then choose the one that sounds the best for the actual audition.  You will also have a back-up if they want to hear something else.
Last, have a conversation a week or so before the audition and remind them that this is just one school. If they really want to pursue a career in the arts their dream won't die if they don't get into a particular school. It just means they don't do it there. If you get in great!! If you don't then you keep on trying.
Break legs and Happy Singing!